Turnkey Services
In addition to manufacturing the most advanced capsule production machinery in the world, R&J Engineering corporation continues to serve its worldwide Clientele with complete turnkey engineering services. The engineering department at R&J Engineering Corporation designs capsule factory buildings with many factors in mind. Production capacity, flow of materials, ease of expansion, and cost considerations all play a part in the design. These designs are then subject to modification after consultation with the Client's architects, sub-contractors, and local authorities in order to conform to the Client's individual needs, any site constraints, and local regulations.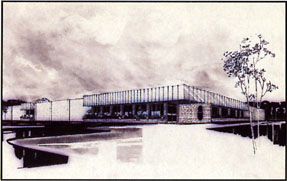 Factory Conceptual Design
Pictured here are capsule projects for which R&J Engineering furnished capsule production machinery, engineering and plant layout, personnel training, technology transfer, and all supporting equipment including climate control, gelatin handling, laboratory, and quality control. As can be seen in the photographs, the combination of local input with R&J Engineering's expertise often results in a factory design quite different from the original concept. In some cases, R&J Engineering has been asked to modify and adapt an existing factory building for capsule production. But in all cases, we at R&J Engineering Corporation work very hard to ensure that the Client is totally satisfied with the final product: a custom-designed, fully operational turnkey capsule factory.

| | |
| --- | --- |
| Beijing, China | Luancheng, Hebei Province, China |
| Shaoxing, Zhejiang Province, China | Wuji, Hebei Province, China |
| Xiantao, Hubei Province, China | Xining, Qinghai Province, China |
| Yishui, Shandong Province, China | Yulin, Guangxi Province, China |
| Cibinong, Indonesia | Seoul, Korea |
| Bangkok, Thailand | Bangkok, Thailand |

Ludbreg, Croatia

Tehran, Iran